---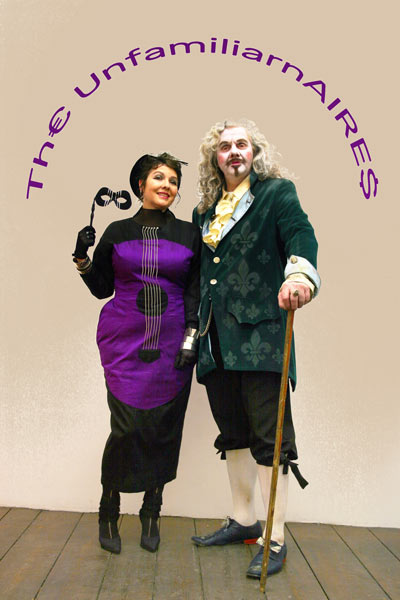 The Unfamiliarnaires are the artists and musicians Dolores Flores and Marius D.Kettler, a duo who has been making music together since 1992, combining music, art, video and performance. Their repertoire ranges from melodic melancholic poetic pop to experimental spoken word, alternative Schrottrock songs and atmospheric soundscapes. The sound is analogue, combined with electronic sounds and field recordings. Influenced from classical music to punk rock, from chansons to folk all of these components play a role in their way of making music.
The past band formations and projects are:
1992 Schlagmetall with Jako (Andreas) Brüggemann.
1993 – 2003 ART Kustik – art into music with David Takramah, Jörg Munder, Jako (Andreas) Brüggemann, Lothar Walter and Doc. P. Boge.

1999 Production of the first CD ART Kustik- art into music and the video "Sacrifice".
2002 Spielothek was founded by Marius D. Kettler to explore new experimental terrain, working with field recordings, electro acoustic audio material, sounds with minimal neo classical components in combination with his interactive art installations and sound paintings. Further music productions were created for videos, exhibitions and performances.
2003 Life Signs Soundtrack for the room installation from Dolores Flores, with guest musician Martin Pfeiffer.

2006 Sound Pirates aka Schlagmetall, is a sound play with original material from Schlag Metal remixed with additional vocal recordings and sounds.

2008 Production of the video "Cold stone walls" and live performance in the a.i.p. gallery for the exhibition "21968 Hours", joint projects Kettler / Flores from 1986 – 2008. Installation, Video and music. Production and music for "Lead and Flesh" video.
2015 QchiQ an electronic music project with the song "Spinning".

2020 in the month of March was the founding of The Unfamiliarnaires, with the recording of the first song " A new tomorrow", for the next CD and vinyl record with silk screen art edition.